Kit Details
NEW GEAR: OMEGA FIBRE RALLY KIT FOR THE 2017+ KTM 450/500 EXC-F
All prices in US $, ex shipping and ex installation.
Contact details: omega.fibre@gmail.com
The extremely durable and lightweight nature of the kit can be attributed to the use of different carbon fiber composite matrixes throughout. Each carbon fiber component is hand-laid and held to the highest quality control standards; this ensures maximum durability and optimal appearance. The rear carbon fiber fuel tank adds 7L of fuel capacity to the bike, and is linked to the forward tank via a quick-couple fuel line and billet machined front tank connector. The forward and rear fuel tanks drain equally while the machine is in use, thereby maintaining front-to-rear weight distribution. The kit in its entirety adds a mere 6.5 Kg to the bike. This includes the weight of the navigation tower and fairing, headlight assembly, rear auxiliary fuel tank, bash plate, lower front fender, and all associated hardware.
No cutting, drilling, or modification of any kind is required to install the kit. The carbon fiber navigation tower is frame-mounted and houses all electrical components as well as an integrated fuse box. These features along with isolation of rally navigation equipment from the motorcycle's OEM wiring loom optimize accessibility while limiting fault-finding procedures in the event of an electrical issue. When ordering a kit, the customer can choose carbon fiber side fairings compatible with either the OEM fuel tank or the 15L Acerbis fuel tank. Two navigation tower backplates are included - one for mounting a road book and one for mounting a GPS navigation unit.
A bash plate constructed of carbon-kevlar composite ensures maximum protection of the motorcycle's vital engine components (as well as brake and shift levers) while minimizing weight. The bash plate features a tool storage compartment and can also be configured to carry 3 liters of water should the customer require this option.
KTM

450/500
designed for you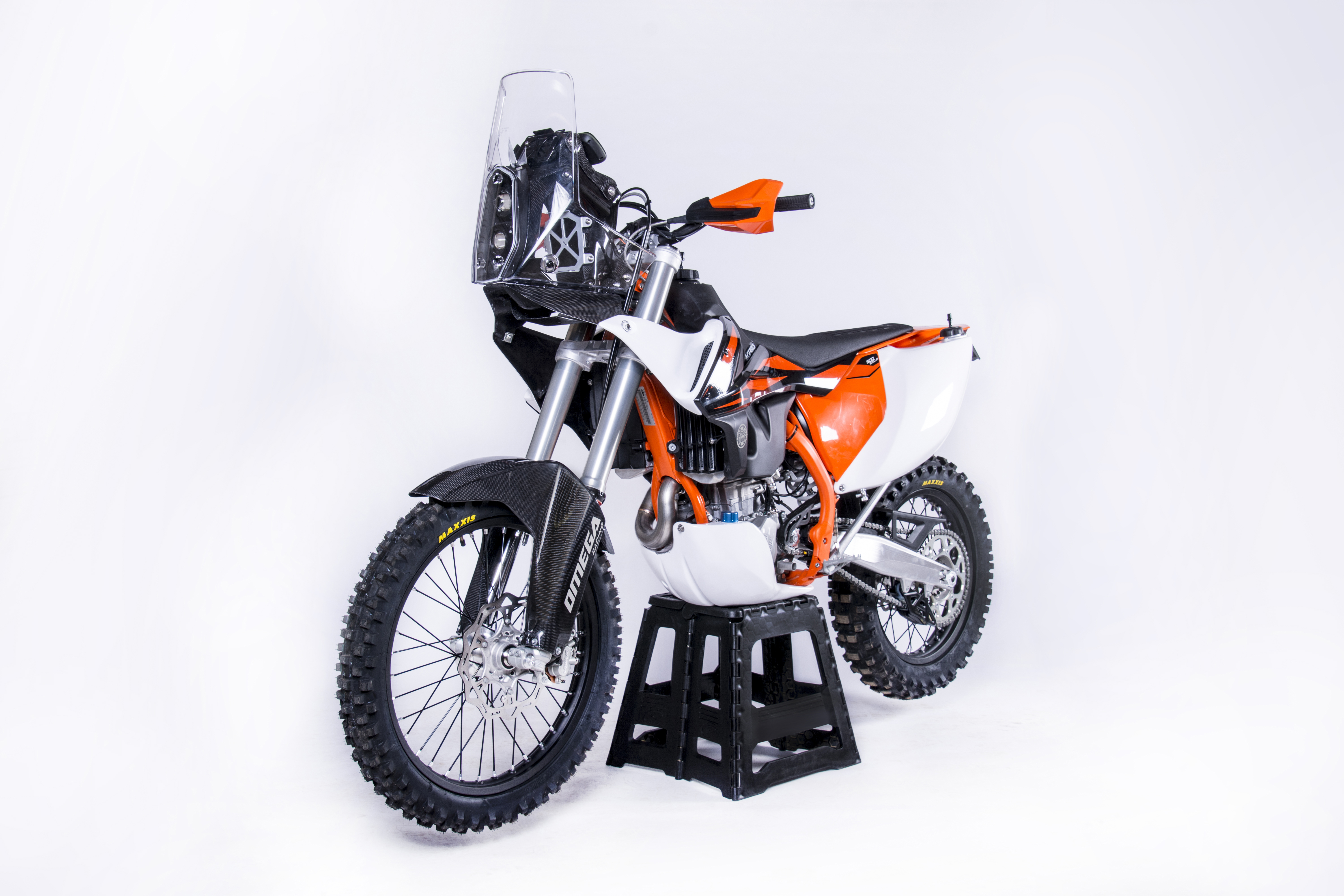 DESCRIPTION
Omega Fibre, a premier manufacturer of advanced composite materials and Rally Bike equipment, has announced an all-new Rally Kit for the 2017+ KTM 450/500 EXC. This 5th Generation kit has highly advanced composite material technology in order to provide the user with a long-distance race machine that is as lightweight, durable, and versatile as possible.
PRICES FOR ALL KIT ELEMENTS:
1. RALLY NAVIGATION TOWER AND FAIRING: 3733.67 US$
Painted carbon fibre tower. (includes plug n play electrics all pre-wired with integrated fuse box and isolation switch for nav equipment. Twin LED projection lights installed which plugs into OEM loom. OEM dials and are also integrated into the new tower)
Clear OEM ktm rally fairing with clear light mask.

Painted carbon / kevlar side filler fairings with quick release.

Frame mounting hardware

(bolt on. no drilling, welding or cutting of OEM frame)

Optional extras:

Carbon visible tower and filler fairings: +

478 US$

Carbon visible roadbook holder: +

257 US$
2. AUXILIARY REAR SIDE FUEL TANK: 1070.75 US$
7 L capacity

Gravity feed to the front tank, with an isolation tap.

Painted carbon / kevlar construction.

All fitment hardware and fuel line included.

Optional extra:

Quick connect fuel line system: +

176.50 US$

Carbon visible: +

352.95 US$
3. LOW FENDER: 361.33 US$
Painted carbon / kevlar:

Comes with a cable guide

Optional extra:

Carbon visible: +

140 US$

(You can run the hi mudguard if you don`t want to use the low mudguard)
4. BASH PLATE WITH 3L WATER COMPARTMENT: 583.68 US$
Painted carbon / kevlar construction.

Tool storage compartment.

Extension brake tip.

Optional extras:

Carbon visible: +

128.67 US$
NOT INCLUDED
• Not Included in the kit are the decals, can be individually designed and supplied @ $330 US
• Not Included in the kit are the carbon fibre engine protectors, swing-arm guards and exhaust guards $420 US
• Not Included are the Cycra CRM Pro bend hand guards.
• Not Included Steering damper.
• Not Included Akrapovic pipe, or wider footpegs