Omega Fibre, a premier manufacturer of advanced composite materials and Rally Bike equipment, has announced an all-new 2nd Generation Rally Kit for the 2016-2022 Husqvarna 701 Enduro. This next generation kit combines years of in-house research and development with highly advanced composite material technology in order to provide the user with a long-distance adventure/race machine that is as lightweight, durable, and versatile as possible.
The various components of the 2nd Generation Husqvarna 701 Rally Kit feature the tried-and-true composite material construction that was utilized in the 1st-Gen kit, ensuring the product is as strong and light as possible. Key design changes have resulted in a slightly reduced overall weight, with the 2nd-Gen kit landing at 15.2 Kg compared to the 1st-Gen kit's overall weight of 15.6 Kg.
Some of these key design changes include the entire front and upper areas of the bike using an even narrower design than the 1st-Gen 701, providing the bike with a very light and slim look as well as reducing the overall aerodynamic profile of the machine. An entirely new windscreen provides optimal wind resistance, while the sleeker and lighter carbon fiber composite navigation tower now houses 2 LED lights enable excellent lighting in all riding conditions.
New forward fuel tanks hold 6.5L per side and are interlinked between each other and the OEM rear fuel tank; this design results in all 3 fuel tanks draining equally while the machine in use which ensures unchanging, optimal weight distribution. A petcock placed between each fuel tank provides the rider with the option of choosing how to manage the motorcycle's fuel supply. Standard exhaust routing is maintained thanks to a carefully designed and heat-insulated left side fuel tank. The 701's OEM fuel pump is relocated from its original position in the rear fuel tank to the forward right-hand side fuel tank; this positions the fuel pump at the lowest point of any fuel tank.
Front tower is manufactured from Carbon fibre and houses the high and low beam LED lights
• Tower is painted Satin Black with base kit
• Lower Bash-plate is included and also constructed from the same materials
• Base kit components all manufactured from Carbon fibre/kevlar but have been painted,should some of these components be specified by customer to have the carbon fibre weave visible on the finish then there are additional costs on these components
• Kit parts are painted in single colour of customers choice,2K automotive paint used
• New Seat is supplied as parts of the kit in Black/blue stitching
• Clear screen is included in the kit
• If the kit is installed on the bike there is an installation cost
• For export customers Base kit is $6956 US exl freight,tax and duties we can arrange freight and will quote according to destination,payment via bank transfer or paypal,additional fees apply for paypal payments
Husqvarna

701
Manufactured for the serious rider...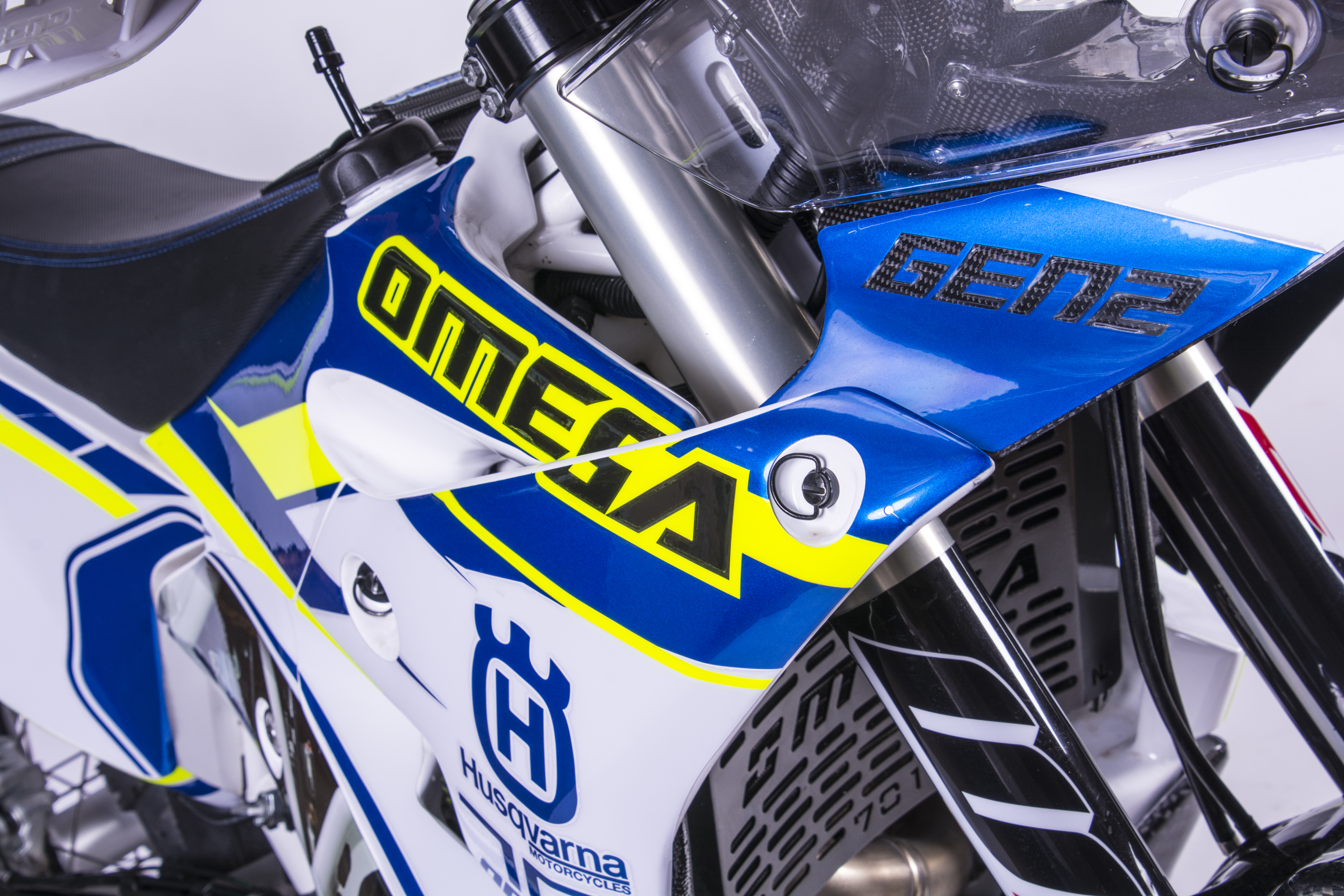 A new upper mount system for the forward fuel tanks doubles up as a lower mount for Scotts/Ohlins steering dampers and is compatible with the BRP handlebar mount. The motorcycle's ignition remains in the OEM position and functionality of the steering lock is maintained.
The kit's bashplate, constructed of an extremely durable carbon-fiber/kevlar composite, features an enclosed tool storage area.
Users have a choice of 2 carbon fiber navigation tower backplates - one designed as a complete rally-racing backplate with Roadbook,Trip and CAP meter mounting positions, and one smaller GPS backplate that virtually any GPS unit can be mounted to.
KTM/Husqvarna quick-release fasteners are used to join together several sections of the rally kit, allowing it to be easily taken apart in the field should the user need to investigate or address an issue with the motorcycle.
Installation of the kit involves removing the OEM seat, plastic side shrouds, headlight assembly, plastic bashplate, plastic radiator guard, and front fender + fork guards (should the user opt for the lower fender) These removed OEM parts weigh 6.1 kg in total, while the kit in its entirety weighs 15.2 kg; this means that a total weight of 9.1 kg is added to the motorcycle during installation of the rally kit
The 2nd Generation Husqvarna 701 Rally Kit is a purpose built package, with all elements designed with rally racing and adventure riding in mind.

Check out the Omega Fibre Instagram account Here
NOT INCLUDED
• Not Included in the kit are the decals, can be individually designed and supplied @ $330 US Neon and Metallic colours add $120
• Not Included in the kit are the carbon fibre engine protectors, swing-arm guards and exhaust guards @ $420 US (Note: Prices may fluctuate based on exchange rates.)
• Not Included are the Cycra CRM Pro bend hand guards.
• Not Included Steering damper.
Not IncludedAkrapovic pipe,or wider footpegs